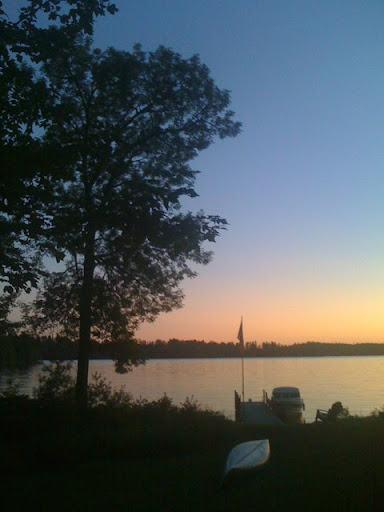 GeoTagged, [N47.87248, E92.37967]
Greetings from beautiful Lake Vermilion in Tower, MN!
I thought I could bust out an iPhone post as long as it was kind of short... So here are my 3 things "lake style."
1. The weather has been amazing. 80-85 every day with a warm breeze. I don't mind the heat at all as long as I have a lake to jump into, which I've been doing multiple times a day. :)
The only drawback to the warmer weather is running... It's hard when it's hot! I'm from Seattle, so this heat/humidity is out of my league. My pace is slower, I sweat even more buckets than I normally do and I'm thirsty all day after a run.
I've been trying to run in the AM, but that's takes a lot of coordination between being dropped off on mainland (our cabin is on an island) and being picked up. Going back and forth can be a pain, so I try to work it around other trips being made.
2. I've been helping my Dad with some cabin maintenance. I learned how to re-screen a screen door! I'm helping out with cleaning up fallen trees and assisting my dad with the new outdoor shower he's building. I feel really accomplished when I help out with cabin stuff - I gotta learn how to do it cause someday I'll have to do it!
3. This place is such a gem and I look forward to coming up every single year. It's all about relaxing, seeing family, being grateful for having this place, and getting away from our usual hectic lives. It let's me take a deep breath and let my mind calm for a week. This is my 18th summer up here and I've loved every year!
I'll blog more when I get home. Hope you all ate having a great week.
-Megan